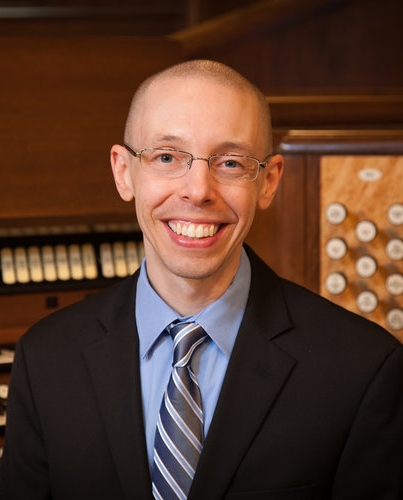 tom@abendmusik.org
(402) 476-9933 ext. 222
Tom Trenney has served as Artistic Director of Abendmusik at First-Plymouth and as Conductor of the Abendmusik Chorus since 2009. As Minister of Music to First-Plymouth Church, Tom leads three adult choirs, accompanies the congregation on the magnificent Lied organ, and preaches in worship. First-Plymouth's choirs have been featured at conventions of the Nebraska Music Educators Association and at state, regional, and national conventions of the American Choral Directors Association. A graduate of the Cleveland Institute of Music and the Eastman School of Music, Tom is music director and conductor of sounding light — a Michigan-based chamber choir he founded in 2003. His organ and choral recordings are featured regularly on public radio, and his choral compositions are published by Augsburg Fortress, Beckenhorst, Galaxy, G. Schirmer, Morningstar, Musicspoke, and Pavane.
Tom has been blessed to perform and teach at regional and national conventions of the American Guild of Organists, the American Choral Directors Association, the Organ Historical Society, the Presbyterian Association of Musicians, the National Association of Pastoral Musicians, the Association of Lutheran Church Musicians, the Sewanee Church Music Conference, and the Calvin Institute of Worship. In 2020, he will lead a choral/spiritual retreat to the Isle of Iona, sponsored by Perform International.
Tom is grateful for the inspiration of his teachers and mentors, especially Anne Wilson, Todd Wilson, William Weinert, David Higgs, Craig Hella Johnson, Anton Armstrong, and Mister Rogers
trey@abendmusik.org
(402) 314-7692
Trey serves as the Executive Director of Abendmusik. A lifelong musician, Trey plays both clarinet and piano and previously was an ensemble member of the Lincoln Community Concert Band. Trey holds an undergraduate instrumental music minor and is a Lifetime Member of Kappa Kappa Psi, national honorary band fraternity.
Originally from Denison, TX, Trey possesses 15 years' professional experience in the nonprofit and public service sectors. He is a graduate of Leadership Omaha Class 40 and the Nonprofit Executive Institute Class 9 of the Nonprofit Association of the Midlands. Prior professional positions include tenure as executive director of Omaha's homeless coalition and program coordinator for the Nebraska Department of Health and Human Services, respectively. During his career, Trey has managed and/or administered nearly $35 million in state and federal funding combined. He serves as a governor-appointed member of the Nebraska Commission on Housing and Homelessness and is a member of the Board of Advisors for Civic Nebraska.
Trey has an MS degree from Oklahoma State University and is currently pursuing an MPA (Master's in Public Administration) with a focus in nonprofit management from the University of Nebraska-Omaha. He and his husband are members of the Unitarian Church of Lincoln, wherein he currently serves as chairperson of the Church Program Council and where he previously served as board president. Trey is grateful to the mentors who empowered him during his career, and he keeps as a guiding quote the following words from Pablo Casals: "Music is the divine way to tell beautiful, poetic things to the heart."
President
Vice - President
Treasurer
Secretary
James Keim
Rob McMaster
Loretta Hellmuth
Linda Zabel
Lorrie Beadell-Love
Lora Black
FOSTER COLLINS
ryan dobesh
Jessica Dussault
matthew finkner
MARY FIScHER
Jackie Mattingly
JAKE MULHEISEN
PHYLLIS OWEN
linda schwartzkopf
Jeremy Spale